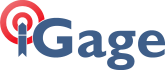 iGage Mapping Corporation is an authorized reseller of
Spectra Geospatial mapping, survey and reference GPS products.

This is not a Trimble or Spectra website. The information on this site is provided as a service for customers of iGage Mapping Corporation. If you purchased covered equipment from another dealer, please contact them for support and assistance directly.

All other product and brand names are trademarks of their respective holders.